Racing inspired gingerbread cookies
Gingerbread cookies are my absolute favorite cookies, and the best I have ever tasted are my grandma Carla's. You will find the recipe HERE (PDF, 0.1 MB).
More than half of the fun of making gingerbread cookies are to use fun shapes and to decorate the cookies. The best cookie cutters are made from stainless steel and have really sharp edges. My dad made me the KillaJoule cookie cutter that you can see above. The two cookies above are decorated as the KillaJoule. It is quite a job to make a cookie cutter of this style, and you need to have access to a real workshop.
A simpler alternative is to 3D print your cookie cutter. It doesn't give as sharp cutting edge and the dough tends to stick to it a bit more, but the possibilities are endless. If you happen to have access to a 3D printer like I have, you don't have to be fluent in CAD (Computer Aided Design) to print your own cookie cutter. There are many print ready designs that can be downloaded for free from www.thingiverse.com, one of my favorite 3D printing websites. Just search for "cookie" on the website. Of course, if you want just your racing vehicle or favorite pet or any other custom shape, you have to draw it yourself.
If you want to 3D print your own KillaJoule cookie cutter – scroll down the page to read more! 🙂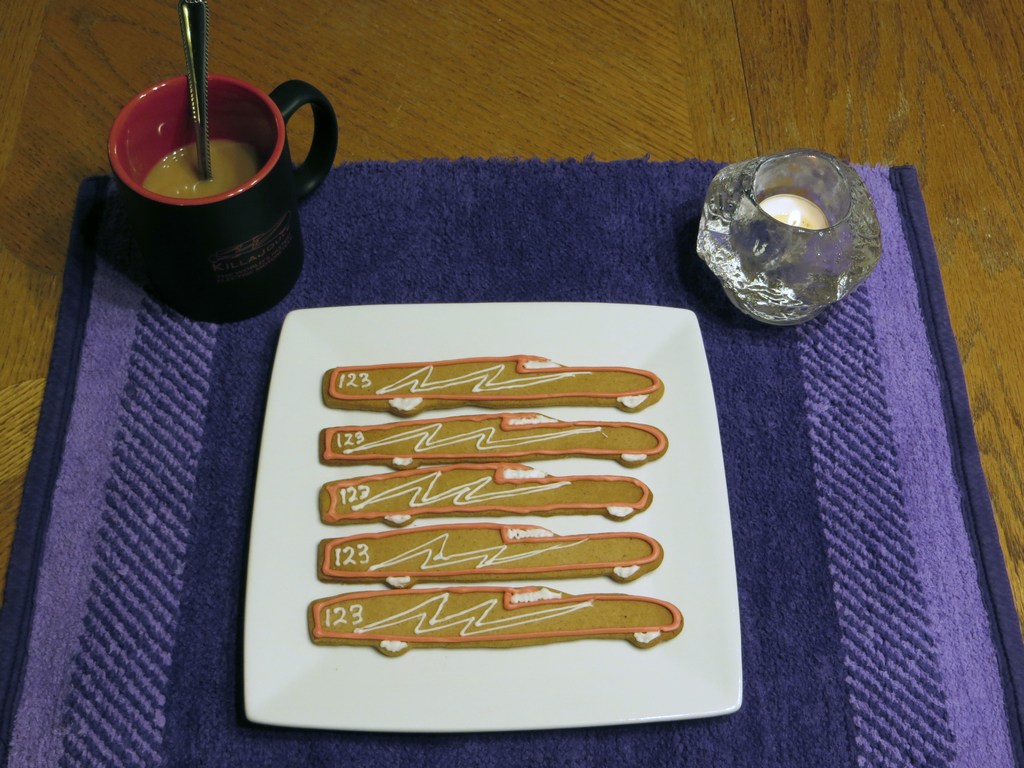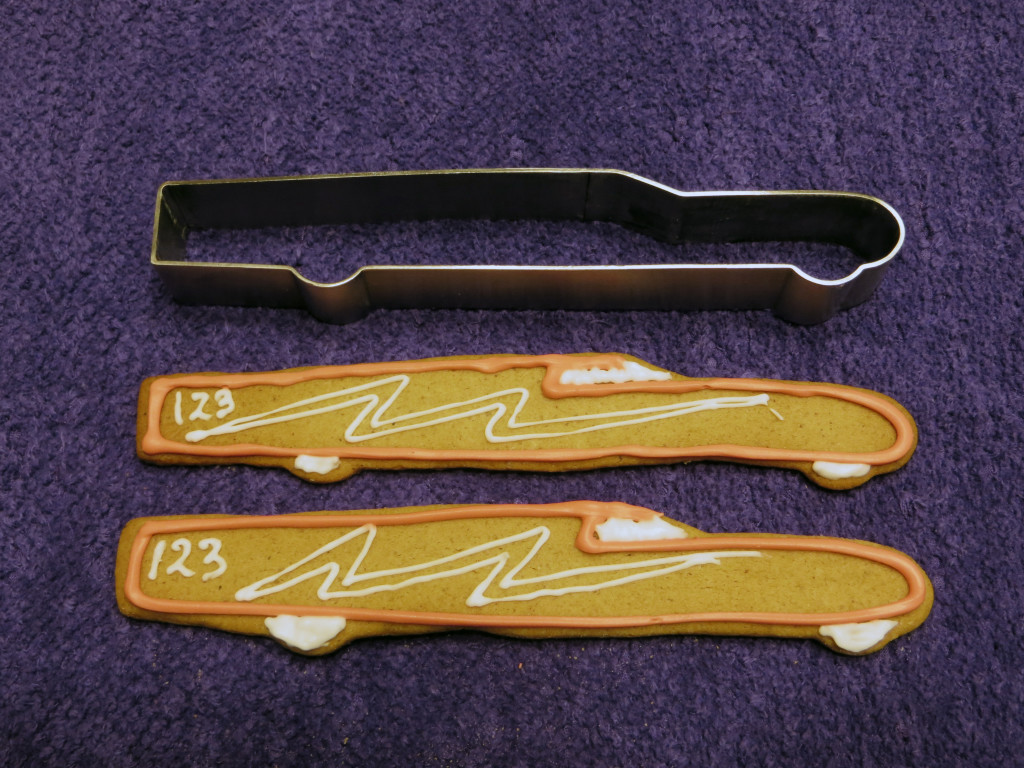 Download and 3D print KillaJoule cookie cutter
If you are lucky enough to have access to a 3D printer, you can download your own KillaJoule cookie cutter here (.zip file). (I don't have a Green Envy version yet, but if you use green icing instead of read it will be a Green Envy. 🙂 The compressed folder contains two varieties of the the KillaJoule cookie cutter – with and without imprint of the lightning bolt. It also contains the two cutters to make the sidecar shown in the photos below. If you want to modify the cutters, the original Autodesk Inventor files (.ipt) are also included. The STL files are also available for download for free at https://www.thingiverse.com/thing:1979020.
If you choose to download the ZIP folder, to open the compressed folder (on a PC), right-click and choose "Extract all". Open or import the .stl files in your 3D printing slicer software (such as Cura or Simplify 3D). Use the slicer software to send the model to your 3D printer. The exact steps depends on your printer and software used.
If you make KillaJoule or Green Envy cookies, please send me a photo – I'd love to see your creation!
Imprint version of the KillaJoule cookie cutter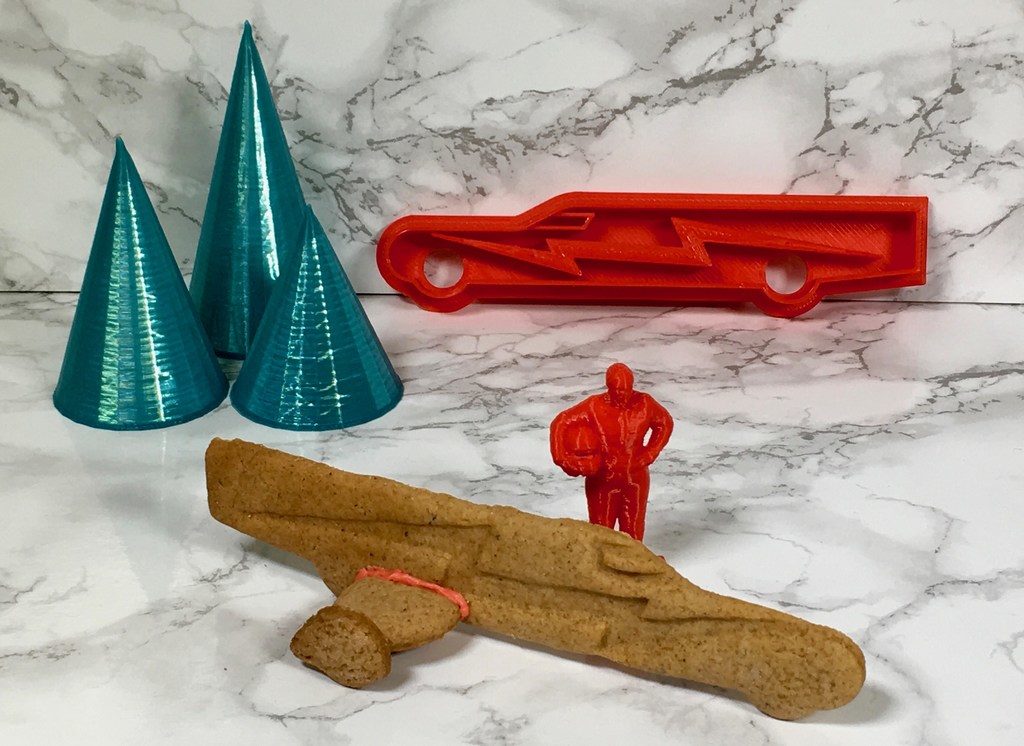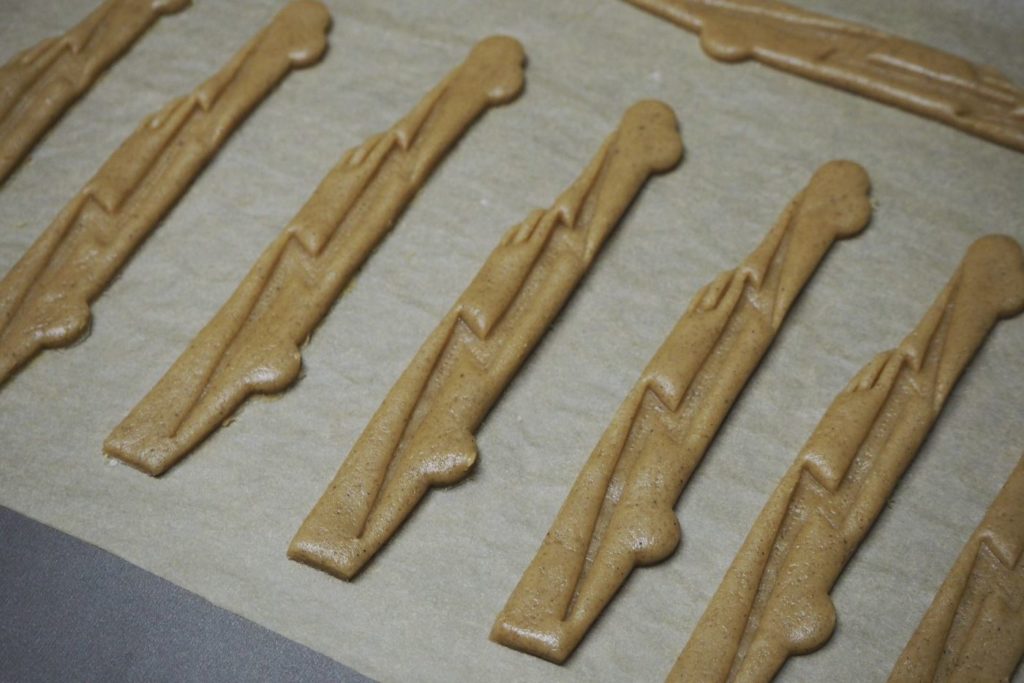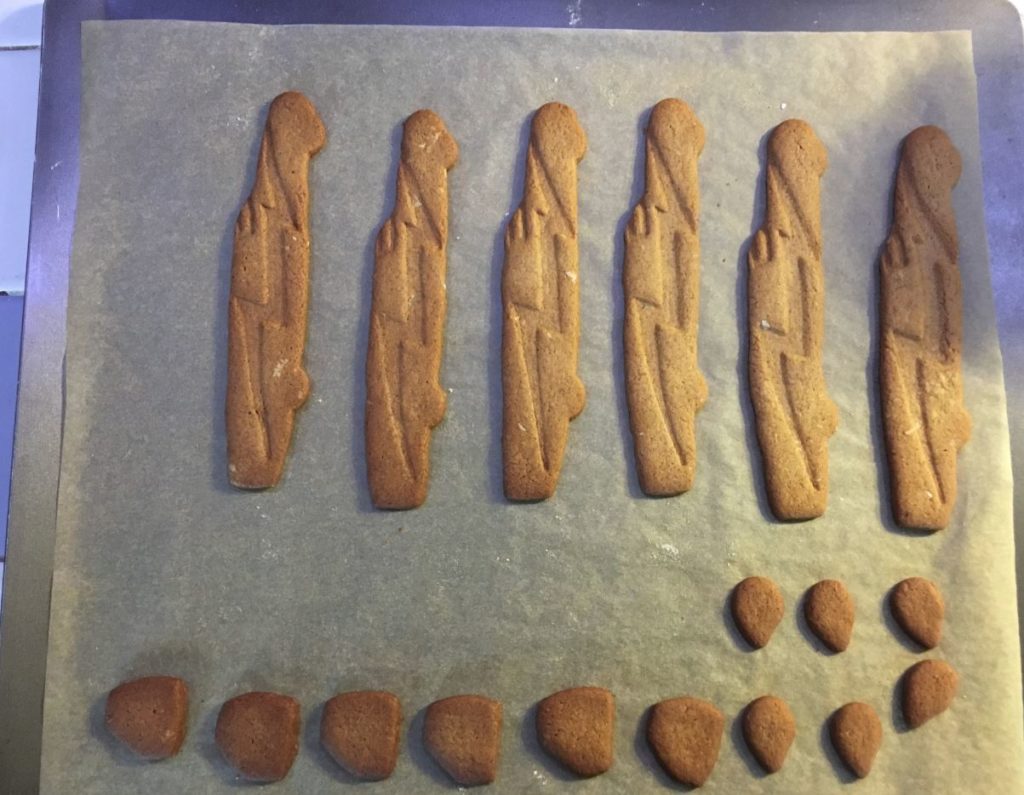 Cookie cutter without imprint
The cookie cutter with imprint is easier to use because the dough doesn't stick so easily. The cookies may also get more uniform shape, and will be very suitable for decoration.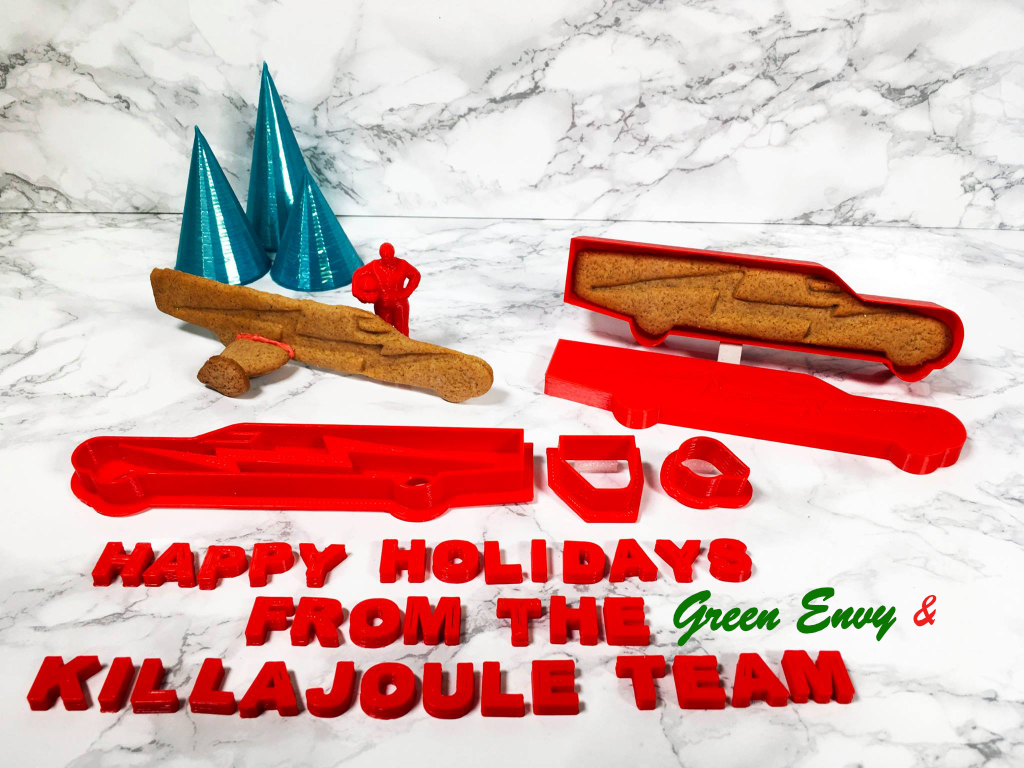 Quick treat or gift: No-bake Oat and Cocoa balls
Super simple and super quick Oat and Cocoa Balls is the perfect treat of gift. Just mix all ingredients in a bowl and shape into balls with your hands. Chill and serve. This is the base for the treats shown in the cover photo. It is optional to roll them in sprinkles, shredded coconut, or anything else you can think of, but they are darn good as they are as well.
I always choose organic, local and/or fair trade ingredients if I can, but that I of course a personal preference. If you want a low-sugar option, substitute some or all the sugar for stevia.
I originally designed the container on the photo be be an Easter Egg, but they suits any holiday or celebration. Scroll down below the recipe to come to files and printing instructions how to make the KillaJoule box.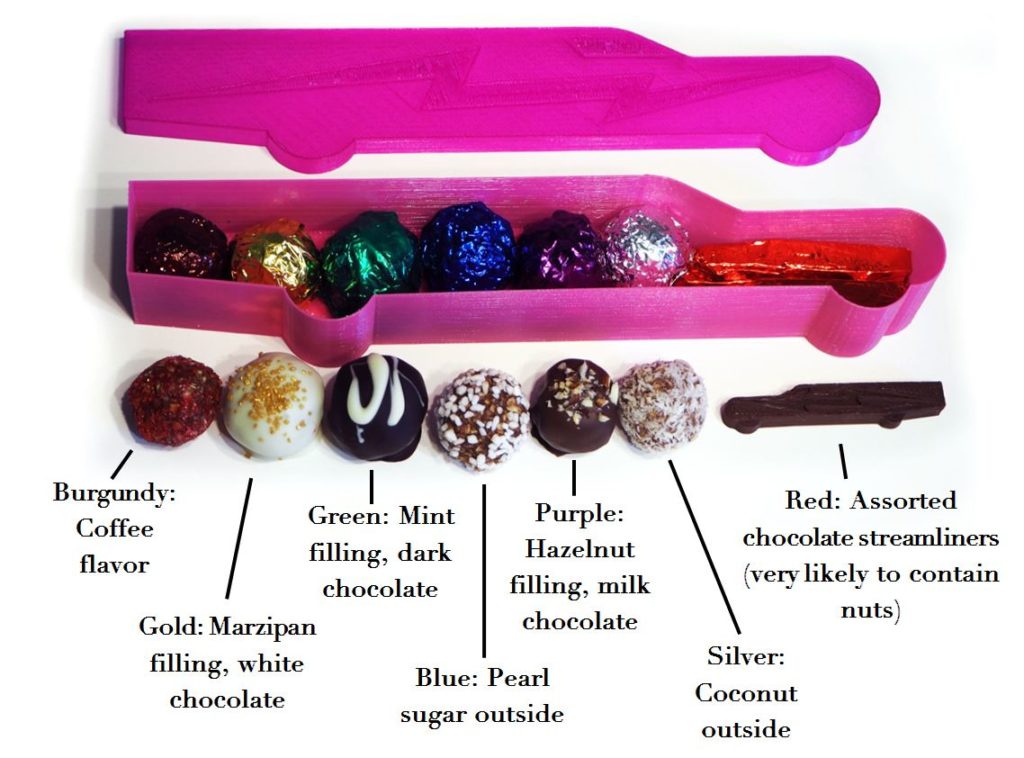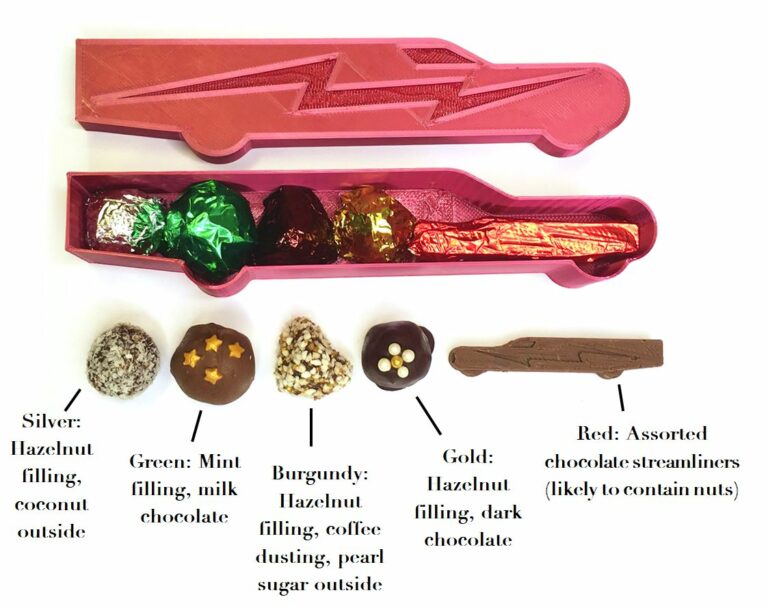 Ingredients for ~20 balls, about 1.25 inch (30 mm) in diameter:
Metric units:
100 g butter at room temperature
0.5-1 dl sugar, granulated or powered (the amount depends on your personal preference)
2 tablespoons of cocoa powder
4 dl rolled oats (quick or regular)
1-2 tablespoons of water
Imperial units:
4 oz butter at room temperature
0.25-0.5 cups sugar, granulated or powered (the amount depends on your personal preference)
2 tablespoons of cocoa powder
1.5 cups rolled oats (quick or regular)
1-2 tablespoons of water
Optional flavoring, such as vanilla or coffee (or liquor for an adult version). The ones in the cover photo had 1 table spoon of liquid vanilla per batch. The coffee ones had one table spoon of instant coffee (dissolved in a small amount of hot water) per batch in addition to the vanilla. Several of the ones shown in the cover photo were also filled or dipped. Here are the additional recipes for the top photo (the bottom photo had some slightly different varieties):
Burgundy: One table spoon of instant coffee, dissolved in a small amount of hot water, per batch.
Gold: Formed a ball of marzipan, and surrounded it with the dough. Placed them in the fridge until hard, then quickly dipped in melted white chocolate, placed on tray covered in parchment/baking paper, and sprinkled "gold" sprinkles on top.
Green: Same idea, but a junior mint in the center, dipped in dark chocolate, and white chocolate stripes on top.
Blue: Just rolled in "pearl sugar" (can be hard to find, a Scandinavian specialty).
Purple: Hazelnut in the center, dipped in milk chocolate, and chopped hazelnuts on top.
Silver: Just rolled in shredded coconut.
Note: a scientifically minded person will notice that the amounts are not identical in metric and imperial units. The recipe is very flexible, and you can adjust the amounts based on your personal preferences.
Step-by-step instructions:
Prefer a printed version? Download the instructions as PDF HERE for easy printing:
KillaJoule Easter Egg (or gift container for any occasion)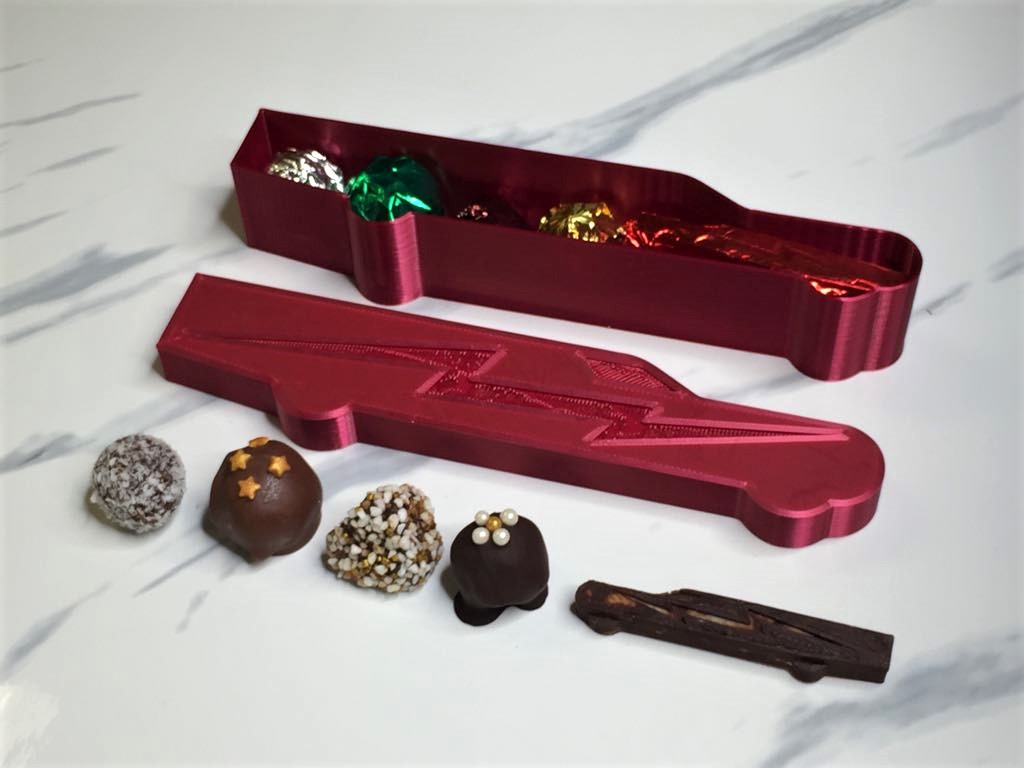 Added April 22, 2019
I love to give away Easter Eggs, but I think the ones in the stores are both boring and expensive. For the last few years, I have made my own with 3D printing.
This year's "egg" features the KillaJoule (of course!) and has room for homemade treats (or store bought candy, if you prefer that). It isn't really an "egg", but rather a streamliner shaped container. That makes it a perfect gift no matter what you celebrate – Easter, Spring (if you are in the Northern hemisphere), Autumn (if you are in the Southern hemisphere) Passover, Ridvan, Qing Ming, National Tartan Day, ANZAC Day, Day of Silence or any of the other holidays around the world that happens this time of the year.
The trick to printing the hollow egg is purely in the 3D printer settings. I have printed my eggs on my Creality Ender 3 (review here) and on my Lulzbot Taz 5, and I "sliced" the 3D file using the free, open-source software Cura. My Creality Ender 3 currently has a 0.35 mm nozzle, while the TAZ 5 has a 0.6 mm nozzle. Either will work fine, but will generate slightly different wall thickness using the settings below.
But first, you need to download the files. You will find the solid models for the Easter egg in STL format HERE (zip-folder – save it to your computer, then right-click and say "Extract All" to get the files).
Here is a suggestion for settings, but you might have to try different settings until you find what works for your specific printer.
Layer height: 0.2 mm
Wall line count: 2 (depending on your nozzle size, you might want to go for 3)
Top Layers: 0 (zero!)
Bottom layers: 4-6 (depending on your layer thickness)
Infill: 0 % (zero!)
Build plate adhesion type: Skirt
Material: PLA
You can also use the setting "Spiralize outer contour" or "Vase mode" where the printer automatically only printer the outer wall, but my prints came out better with the settings above.