Posted October 11, 2020.
When the planned debut for the Green Envy was postponed from March 2020 to March 2021 due to the pandemic, we were disappointed. On the other hand, it gave us more time to get things really ready. The Green Envy was built at break neck speed. We cut the first tubes on July 30, 2019, and we rolled it into a container and shipped it off to Australia February 25, 2020. Because the event was cancelled, we had to change our testing plans. New Zealand isn't the place for serious land speed attempts, but the Green Envy finally got a chance to stretch it wheels at Meremere Dragway 1/4 mile dragstrip today! This was the first time I have driven it outside the parking lot, and we had an absolutely awesome day with and absolutely awesome team!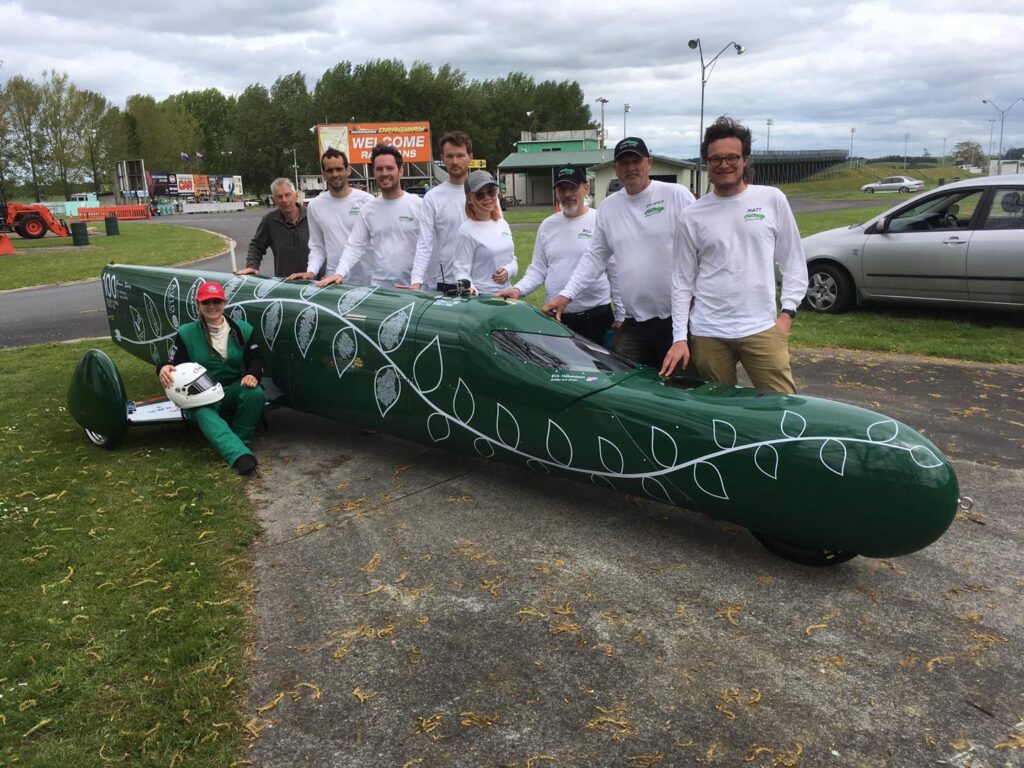 Focus today was on testing, and with particular focus on data logging. We did two slow passes at about 55 mph (90 km/h), and found a few bugs to fix, but pretty much everything else worked very well to be a brand new vehicle.I had, however, a very surprising problem – I was going too slow for the parachute to develop correctly and actually slow me down. Because of this, I didn't dare to go much faster.
The Green Envy has regular motorcycle brakes front and rear, but weighs 1200 kg. Not a good combination for rapid stopping. With the current gearing, it should do a bit over 100 mph (160 km/h) in the quarter mile, but I wasn't sure my brakes could stop me without overheating from that speed. Thus, we called it a day after two 55 mph passes. Our New Zealand top speed record holder Dean Hart (The Worlds Fastest Ginge) will help me sort out some larger drag racing chutes so we can come back for some faster runs.
The two slow passes was enough to determine that most things appear to be working, but also enough to give us a list of things we need to fix. We are hoping to come back the Meremere later in the year for more testing and more speed. Because we are in the Southern Hemisphere, summer is approaching and so is the drag racing season. 🙂 We are tentatively shooting for November 21st, but it is a all weather and pandemic permitting.
We had an absolutely fabulous day yesterday. Probably the best day I have ever had on a race track. Weather was absolutely perfect. Nice and cool, but no rain. Just enough overcast to not get burned to a crisp. Great food (OK, I had cooked it all, so I am biased, but people seemed to like it a lot). No crankiness. No blood. No flames. Not even any broken parts. What more can you ask for?
Thank you team members Steve, Summer, Tom, Matt, Juan, and Jack for spending the entire day with us. Thank you Peter, Val, Georgina, and Steve for being our guests, and thank you Dean for being our crew member for the day! Also thank you to all our sponsors that the made the Green Envy come true, and in particular AVID Technology Group Limited (motors), Cascadia Motion (inverters), Öhlins Racing AB (suspension), Mulcahy (laser cutting and fabrication), Axis Industrial (fabrication), Auckland Engineering Supplies, V3, OZ-DIY, A123 Systems (batteries), Cummins Onan (generator), Jenners Worldwide Freight Ltd (shipping), University of Wolverhampton, UWR, Gwawr WST, Quickgrind, Tungaloy, Arai, Novakinetics Aerosystems, and Woody's Wheel Works. And of course all the supporters that have bought "names" on the side of the Green Envy (you can still get yours on it – go to www.GreenEnvyRacing.store
).
#GreenEnvyRacing#EvaHakansson#EngineeringRules#GirlPower#FlatOutIntoTheFuture